Mashpee Firefighters Help a Resident War Veteran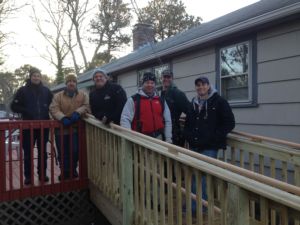 On Wednesday, December 18th, Mashpee Firefighters Local 2519 conducted a community service project for a local family in need. A couple of weeks prior to the event, members of Local 2519 became aware of a Town of Mashpee resident in immediate need of a wheel chair ramp in order to access his home.
The resident, an 87-year-old Veteran of World War II, had just recently been stricken with a health emergency, which necessitated amputation of one of his legs. While undergoing his surgery and rehabilitation, his wife made inquiries concerning having two ramps constructed at their home. Local 2519 decided to respond to their need, out of respect and admiration for his service to our country, as well as in an effort to give back to the community they serve.
Donations were received from Botello Lumber Co., Peltier Electric Inc., and Sylvester Consultants, to offset the cost of the materials. Local 2519 members arrived on the 18th, prepared to construct the ramps. The weather cooperated, and the project was a success.
The Local wishes the family A Merry Christmas, and a speedy rehabilitation.